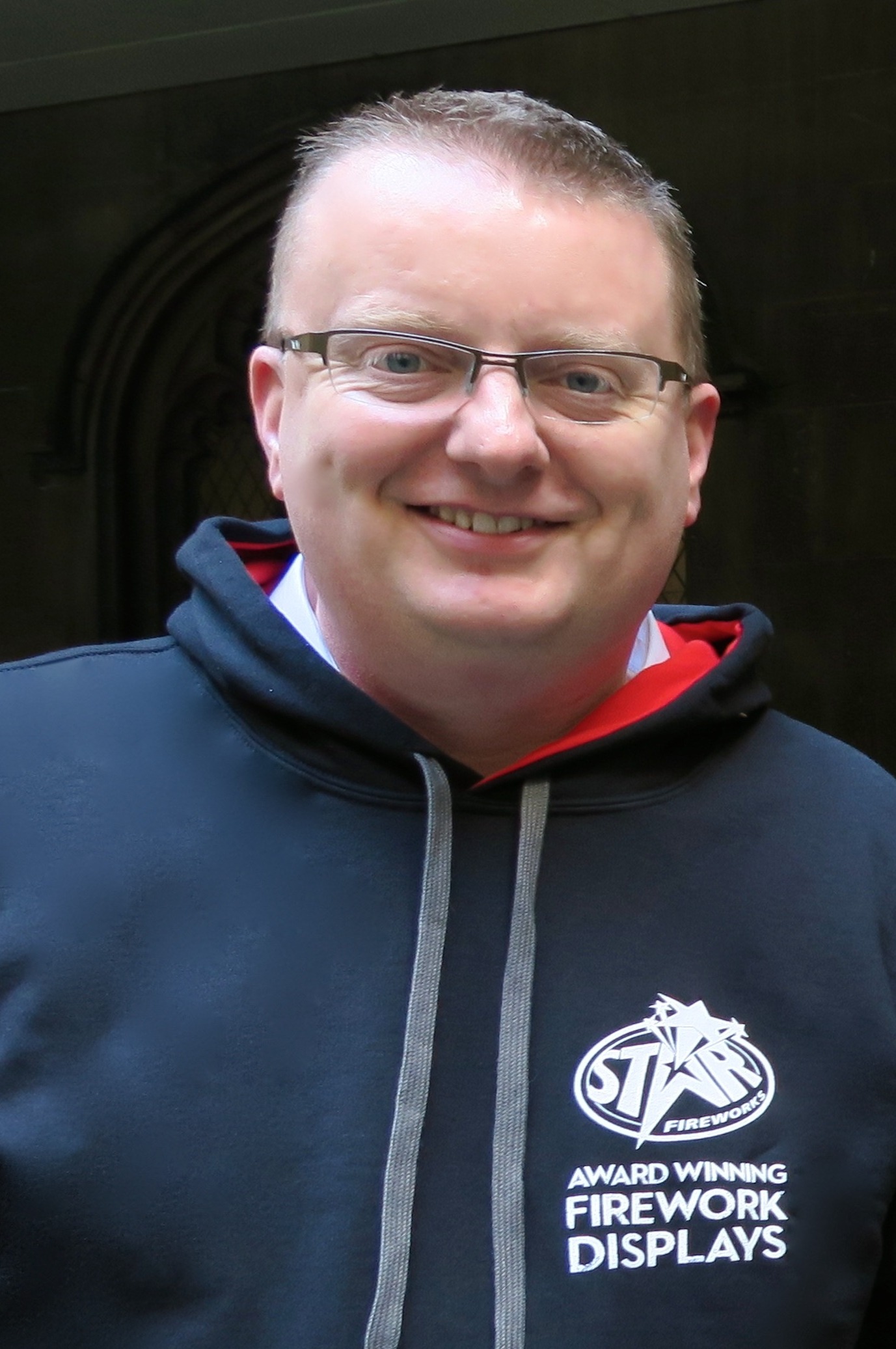 Andy has worked in the UK fireworks industry since 1993. A genuine passion for quality fireworks since his school years led to him being appointed as a firework safety adviser to the Department of Trade and Industry (DTI), a role he undertook until he joined Star Fireworks in 2002.
Since joining Star Fireworks, the company has seen rapid growth in new sectors such as TV and concerts. He is a master of pyrotechnics and has been responsible for the design and production of many big shows from the Red Hot Chili Peppers through to McFly, Big Brother and numerous Studio productions. His winning design work resulted in Star Fireworks taking home the Championship in 2010 at The British Firework Championship and The Champion of Champions award in 2013.
Andy takes an active role in representing the UK firework industry at home and overseas. He became Chairman of the British Pyrotechnists Association in 2008 and has since sat on many government committees considering amendments to fireworks legislation.
Andy's articles in Firework Magazine keep the industry updated on his work to promote the interests of the industry as a whole.
Andy is currently focusing on Star Fireworks technological and creative direction, flying to Japan and the USA for seminars and master classes. Andy's commitment to training keeps Star Fireworks at the top of their game both as innovators and artists.
Sean has worked for the company since 1995 and heads up the Display Division of Star Fireworks. Sean is responsible for the creative and practical aspects of our productions. Hands on in his approach to displays, you could say Sean supervises every firework from the ground up. From buying trips to China and Europe to military precision planning for November 5th, Sean is our man.
Sean's impressive portfolio includes working for The Rolling Stones, Christina Aguilera, 15 years of finale night fireworks for Big Brother, Blue Peter, Hampton Court Palace – to name but a few. Sean works with clients from inception through to completion, covering all stages of creative design through to Health and Safety and event liaison.
As a born romantic Sean's takes a special interest in Star Fireworks Wedding Displays. Sean is happy to attend Wedding Fairs, to meet with venue staff, and ensure everything runs smoothly on the night. When working with the happy couple his creative ideas ensure each show is unique.
A qualified senior trainer with the British Pyrotechnics Association Sean is also fully licensed to transport explosive materials.
The Father of two adorable girls, Sean is especially safety conscious. His litmus test for Star Fireworks shows is, "Would I let my girls attend this show?" Only when the answer is yes will the show go on.
In his spare time Sean is an avid OEKC Kart Racer. It is Sean's combination of competitiveness and warmth that makes him the perfect Team Director.
At Star Fireworks we realise we are only as good as our team. That is why we focus on hiring and training team members who are passionate about fireworks. All our displays are headed by a firer who is fully qualified by The British Pyrotechnists Association and has completed their City and Guilds accredited training.
Following meticulously designed safety checks and firing plans, our teams guarantee your show will be an overwhelming success.