The Best Holiday Escapes For Firework Lovers
As the nights grow shorter we experience a primal urge to gather together, to light the celebratory fires and fight back the darkness. Perhaps this is why fireworks are so popular during the colder months. Here is our guide to the best holiday destinations for dramatic fireworks and exuberant escapism.
Halloween Festival October
Celebrated for its music and architecture Derry is now gaining fame as the best place to spend Halloween. The largest street party in Ireland, " Feile na Samhna" attracts over 30,000 visitors.
2016 was the 30th anniversary of the carnival and the most extravagant to date. A vibrant street market and ghoulish zombie chase culminated in a firework display by Star Fireworks over the river Foyle.
The firework display provided by star fireworks was a brilliant success.
IzonHow, a local YouTube star was filming on the night. "The Fireworks are massive……right on point" he gleefully reported.
The carnival brought such a boost to the local tourist industry the council have promised a similar spectacle for future years. If you are looking for devils, daemons and a great Craic, Derry is the place to be.
November is every firework fanatics favorite month. Most people stay close to home on Bonfire night. This is the night to support displays put on by your favorite charities. A night to party with friends, family and neighbors. Search online for "fireworks near me" and you will discover a plethora of local events.
In the south of England one special event is Jump Season Opening Day at Ascot Racetrack. Usually the first Saturday in November, Opening Day is a chance to break out your smartest winter style. Watch the Gold Cup Chase from the swanky King Edward VIIth Enclosure or bring a picnic for more casual fun.
Designated a family day there is free entry for the kids, plus a fair ground and pony rides.
For firework lovers this is just a build up to the main event - a spectacular pyro-musical display. If you enjoy your fireworks in elegant surroundings with a great view, this is the place to be.
One way to beat the Winter blues is to escape Down Under. Spending Christmas snorkelling and surfing is a novel experience for most Brits.
Sydney Harbours' New Year party is reputed to be the best in the world. The entertainment begins at 6pm leading up to an 8 min firework display at 9pm for the little ones. This is followed by the mesmerising Harbour of Light Parade. Tall ships with white rope lights glide past the lit up Harbour and the iconic Opera house.
As the clock strikes twelve the main pyrotechnic display begins. Seven barges in the harbour explode in choreographed artistry.
Travelling half way around the world to see a fireworks' display may sound a bit extreme. However, with all that Sydney has to offer, it promises to be the trip of a lifetime.
The International Festival of Pyrotechnic Art February
The ultimate luxe skiing resort Courchevel is home to The International Festival of Pyrotechnic Art.
Set in three valleys, Courchevel's villages nestle at five different altitudes. Each village is unique and attracts a particular tribe of Skiers.
Courchevel Moriand with its self- catering chalets and challenging slopes is popular with dedicated skiers. Courchevel Village features gentler runs and is favoured by families; while Courchevel 1850 is an exclusive resort, the place to rub shoulders with the rich and famous.
The International Festival of Pyrotechnic Art is typically spread over 5 weeks beginning in February. Four teams compete, each team performing one display. Teams draw straws to decide which altitude they will be fireing from. This creates an element of unpredictability, and an additional challenge for the pyrotechnicians,
Over 8000 spectators watch the shows while listening to live music and sipping mulled wine.
As a particularly nice touch local ski schools lead a procession of students down the mountain, each carrying a flaming wax torch. An almost mystical hush settles on the watching crowd, followed by whoops of delight as the fireworks burst into the sky.
The back drop of snowy peaks and the fresh mountain air lend a special magic to each display. Definitely one for the bucket list.
Year-round sunshine and pristine beaches are reason enough to visit Malta in April.
Positioned in the centre of the Mediterranean Malta has a long history of navel battles and conquest. This has resulted in a compelling cultural mélange.
Malta's Military past is also responsible for the island's fascination with fireworks. The aristocratic Knights of St John, who ruled in the 16th century loved to let off fireworks. Popes birthdays or the election of a Grand Master were celebrated with a Solafarelli d'Aria or St Catherine's Wheel.
Today there are 35 firework factories on Malta and fireworks are an integral part of island life.
The Maltese International Firework Festival takes place over a weekend in April.
Featuring Pyro-Musical Competitions from the top European companies, spectacular displays light up the Med. Local pyrotechnic factories also get their chance to sparkle and take-home awards. For camera buffs, there is a challenging firework photographic contest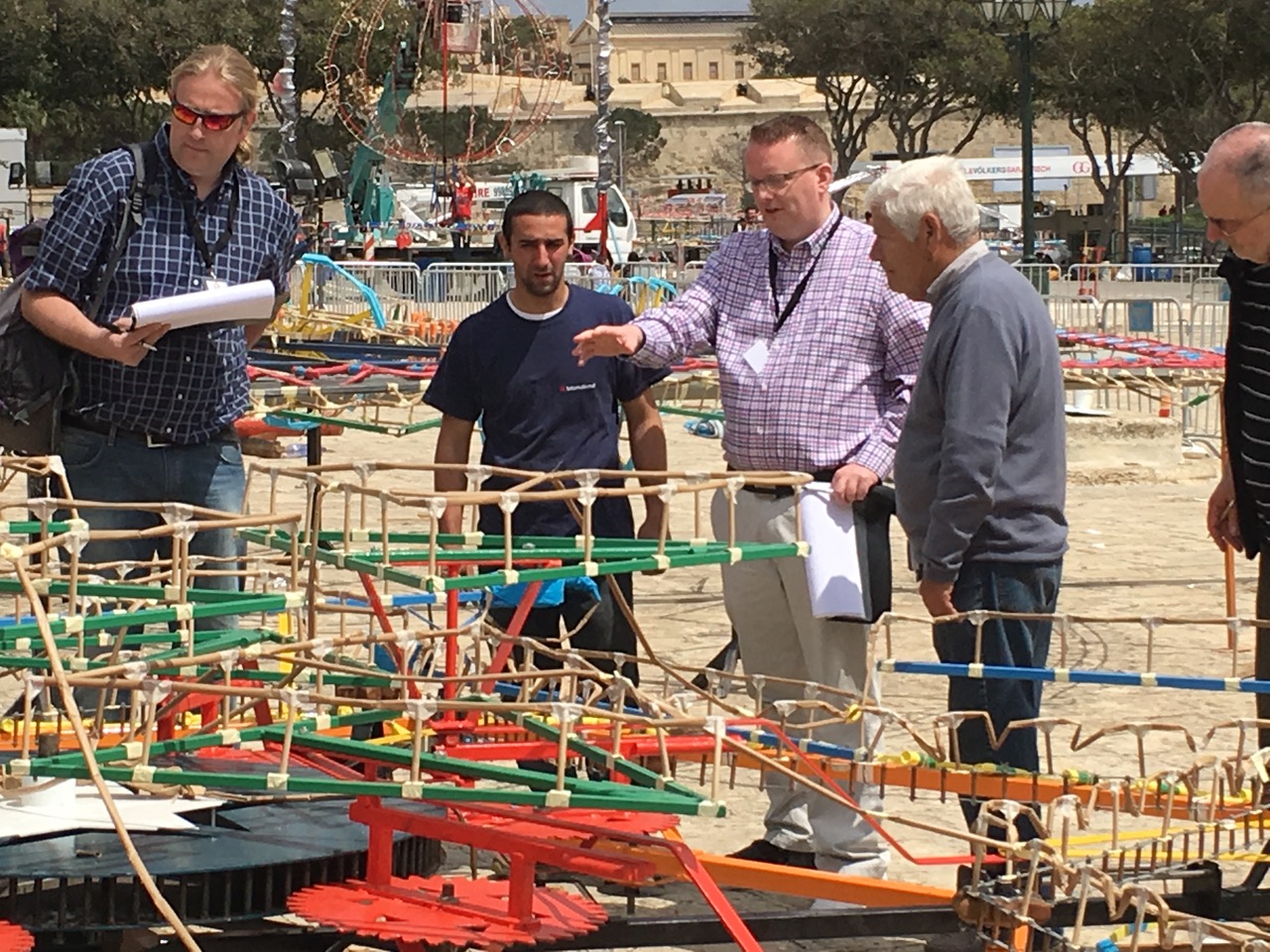 Andy Hubble Creative Director of Star Fireworks judges a set piece.
Malta during Firework Festival is the perfect holiday for families with teenagers. This tiny island packs something for everyone.
Can't get away until the Summer?
Take a look at our Guide to The Best Summer Holidays for Firework Lovers.
Photo Permisions by Courchevel Tourisme, Derry & Strabane District Council, Liam Pozz on Unsplash